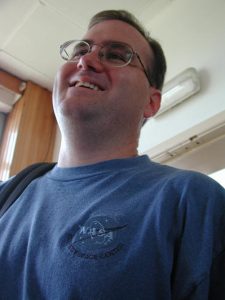 (Prologue: Ray Ashley 1968-2009 on Youtube.)
I first met Ray in 2000 in Brussels, of all places. We were both in Belgium to attend the legendary Tap-Guitar Seminar in Neufchâteau. Ray was already an incredible tapper who could do amazing things on his 11-string Warr. Me, I was still trying to figure out which way to hold the instrument.
We caught up every now and then over the years, sometimes in Belgium, a couple of times at his place in New Jersey. I felt very privileged to be invited to perform at Summerjam, Ray's annual musical BBQ fiesta. On one occasion we did a rendition of Tabula Rasa's Rakastatko vielä kun on ilta together, with Ray on keys and his long-time musical accomplice Joe on drums.
It was Ray's turn to visit me in Finland in 2004. Being the huge Rachmaninov fan that he was, he made sure to time his trip so we could go and see the Estonian Philharmonic Chamber Choir performing Vespers, Op. 37. We took the ferry over to Tallinn and made our way to Niguliste church. After the gig, Ray had a brief chat with the Russian basso profundo Vladimir Miller — in Russian, of course. As I don't speak the language, I didn't join them and so don't know what his reaction was, but I would bet that he doesn't get a chance all that often to chat with fans from New Jersey who are fluent in his native language.
We did a road trip to Montreal in 2006. Ray always had a flair for unearthing extremely obscure composers and their even more obscure works, but I think he outshone even himself by putting Sulkhan Tsintsadze on the car stereo. It was a long drive, but I wasn't about to complain. Instead, I willingly sat shotgun while listening to Ray's endless yet always entertaining monologues on anything and everything under the sun.
Fast forward to 2009. I was about to leave San Francisco and called Ray to double-check that he would be coming to pick me up. He sounded a bit preoccupied, which wasn't unusual; he'd had bad days mixed in with the good for a long time. Ray said he'd be there to meet me, I said "see you tomorrow then", and that was it.
When I got to Newark, I quickly found out that Ray wasn't going to be there. He'd been wheeled away to hospital that morning. I went to visit him in the intensive care unit. It is not entirely clear whether he recognized me, as he was heavily sedated. I like to think that he did. A few days later, he was gone.
As a postscript, I'd like to present one of Ray's song lyrics from Three Hour Detour's eponymous debut album.
Omnichrome
Omnichrome is a great and wonderful city where all colors are experienced with equal intensity at all times. It is one of the true wonders of the Galaxy, contained within a huge geodesic dome.
Far away, a dream a day, perception stained my face.
Only there was I aware of my past.
Far along, the siren's song, far along the way.
So far to go, so much to know or say.
Soon, I'll be away from here, back to the place where my mind is clear.
Tell me I am near.
"Dead ahead", the sailor said, "dead ahead you'll see,
the colored sky shows you why you're free."
Soon, I'll be in Omnichrome, under the great geodesic dome.
Tell me I am home.